One would be forgiven for mistaking the pizzazz of ICE 2017 for the bright lights of Vegas. The sheer scale of the world's largest gambling exhibition is truly a sight to behold, with companies selling everything from casino chairs and slot machines to live betting products.
At Esports Insider, though, we had a very different focus. We scoured the ExCeL centre (which aptly seems to utilise the weird gaming name convention with the alternate capital letters) for the best esports on offer. It comes as the gambling industry looks to both develop its offering and capture the rumoured millions available in what's predicted to become a huge growth area for the sports book. 
The race to truly crack the live betting conundrum in esports continues; with few companies claiming to have achieved the intrinsically difficult feat. Betradar, Ultraplay, RTSmunity and Vermantia were amongst those showcasing their esports product in London last week. Betgenius didn't have anything too specific on esports but were present and still are known to have one of the most comprehensive offerings in the industry. 
Betradar
With arguably the most impressive esports demonstration, Betradar will have opened the eyes of many to the wonderful yet complex world of esports betting. Product Manager Ben Woodward and Head of Esports James Watson were joined by a name synonymous with esports Paul "ReDeYe" Chaloner as they presented the Betradar Invitational to intrigued customers.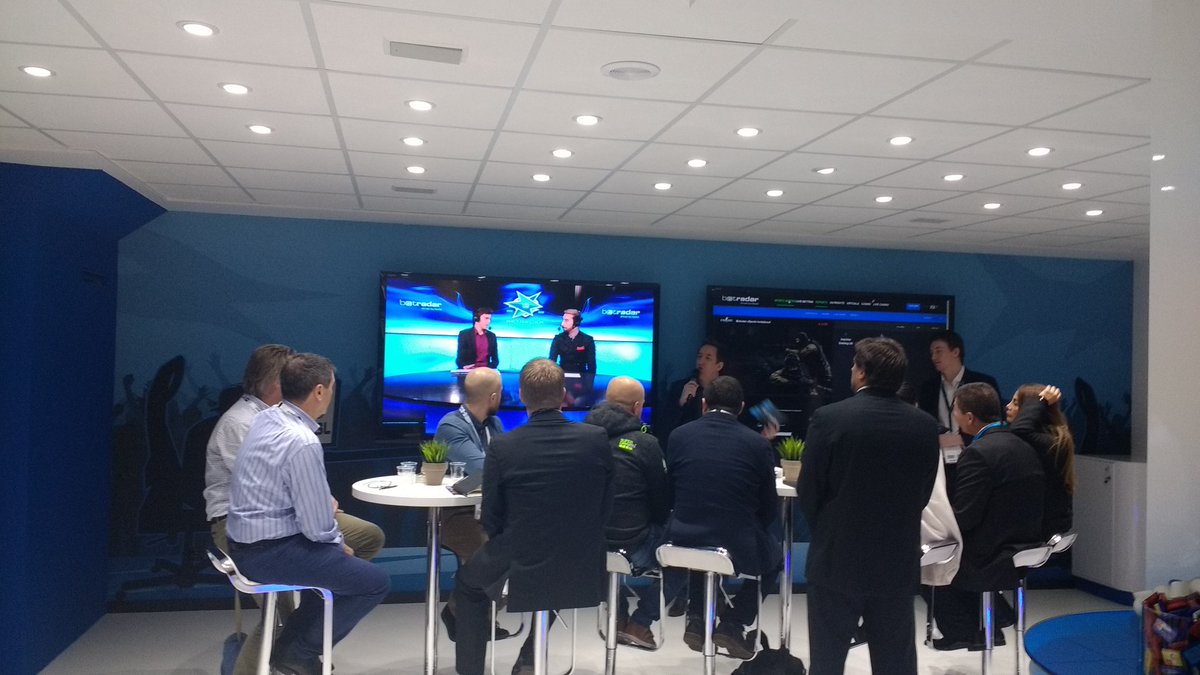 Whilst Paul quickly scoffed at ESI when we raised our hands in riposte to his "Who knows what CS:GO is?" question, there was definitely a keen sense of intrigue in the intimate setting as the Betradar team introduced their in-play product. It comes as a result of their partnership with DOJO Madness, an esports data company and ESL, one of, if not, the world's largest esports tournament organiser and well rounded powerhouse. 
The Betradar Esports Invitational was impressive, with two matches a day being played live from the ESL studios in Leicester and being fed through the screens at ICE. ReDeYe painted the picture of what was going on, all the time cross referencing how certain aspects of the game were directly impacting the in-play offering depicted on the adjacent screen. 
The odds were updating in real-time, showing the efficiency and strength of the product that Betradar have developed for consumers looking to offer additional depth to their in-play CS:GO market. It was an impressive display, and it will be interesting to see which operator's decide that Betradar have cracked the seemingly impossible task. 
Daniel Gruederich, CEO of SportsbookCloud who worked with Betradar to develop the product said: "We were delighted to team up with Betradar to showcase the esports product that we've been working hard on. We love working with the best in the industry and I believe we showcased this with the invitational."
Ultraplay
Ultraplay boasted an impressive stand and again brought live Counter Strike: Global Offensive action to London. It was a somewhat different approach, though, with Bulgarian team Outlaws playing competitive online matches from the Ultraplay stand. 
There was very little narrative around the display. Whilst there were two screens above the team as they sat at their desks, they were delayed (understandably, as otherwise the team could garner information they should not have on the opposition) and thus the odds did not directly relate to what you could see on the players screens.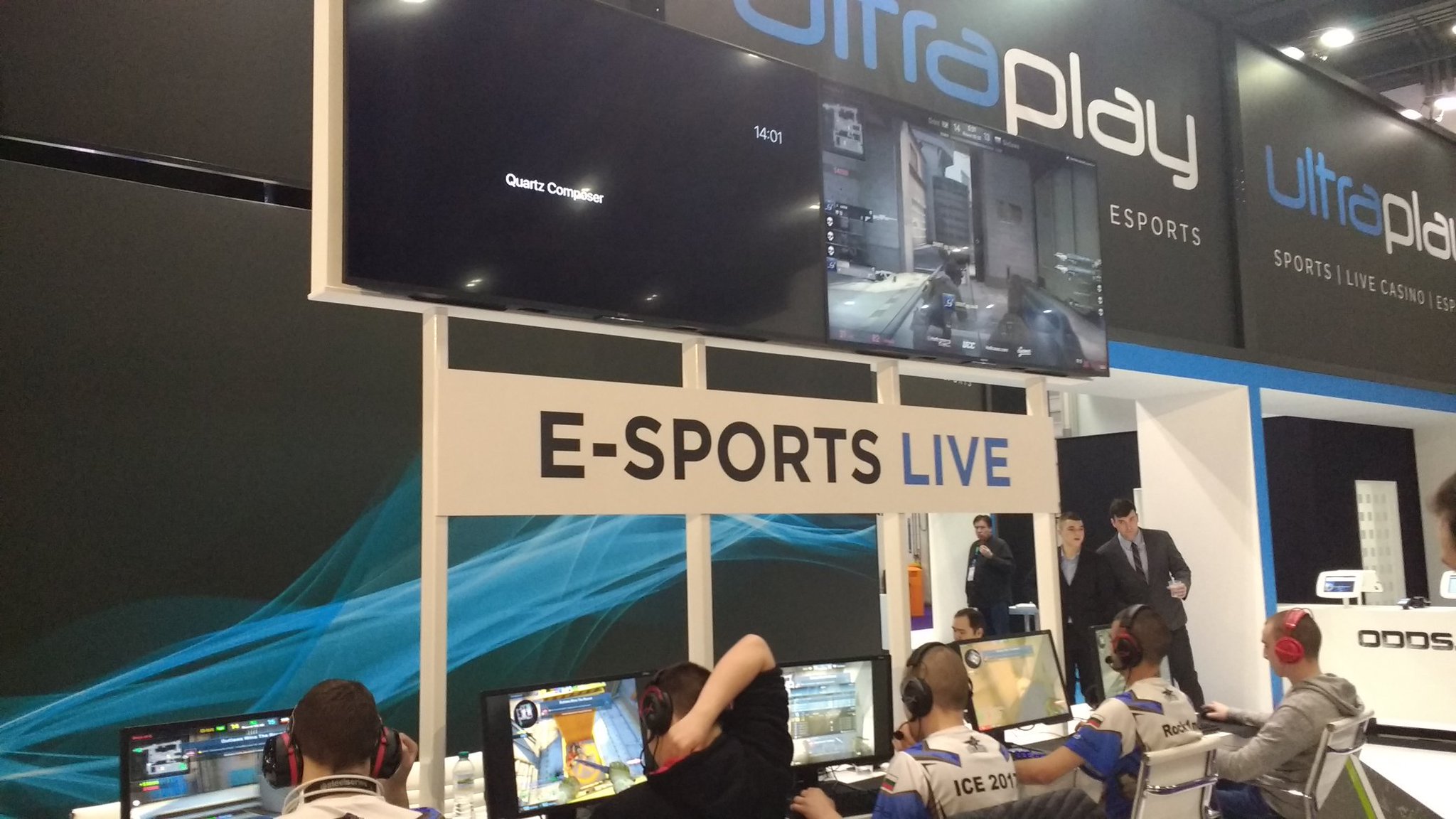 From an esports perspective, it was intriguing to watch professional players in action and see the sheer skill that goes into CS:GO whilst standing behind a team. However, it didn't offer potential operators much in way of information with regards to exactly what was going on. 
There were plenty of Ultraplay staff members around to discuss esports, though, so anyone who wished to find out more and learn the fundamentals was always greeted with both enthusiasm and knowledge. They also had the GG.Bet website up on different computers; a dedicated esports bookmaker to whom they provide the odds and it went to show the depth that they provide – even if it wasn't strictly the live betting aspect.
One thing that confused us and is evident from the photo above is the "E-Sports Live" when everywhere else it was spelt "Esports". No one likes a hyphen. 
RTSmunity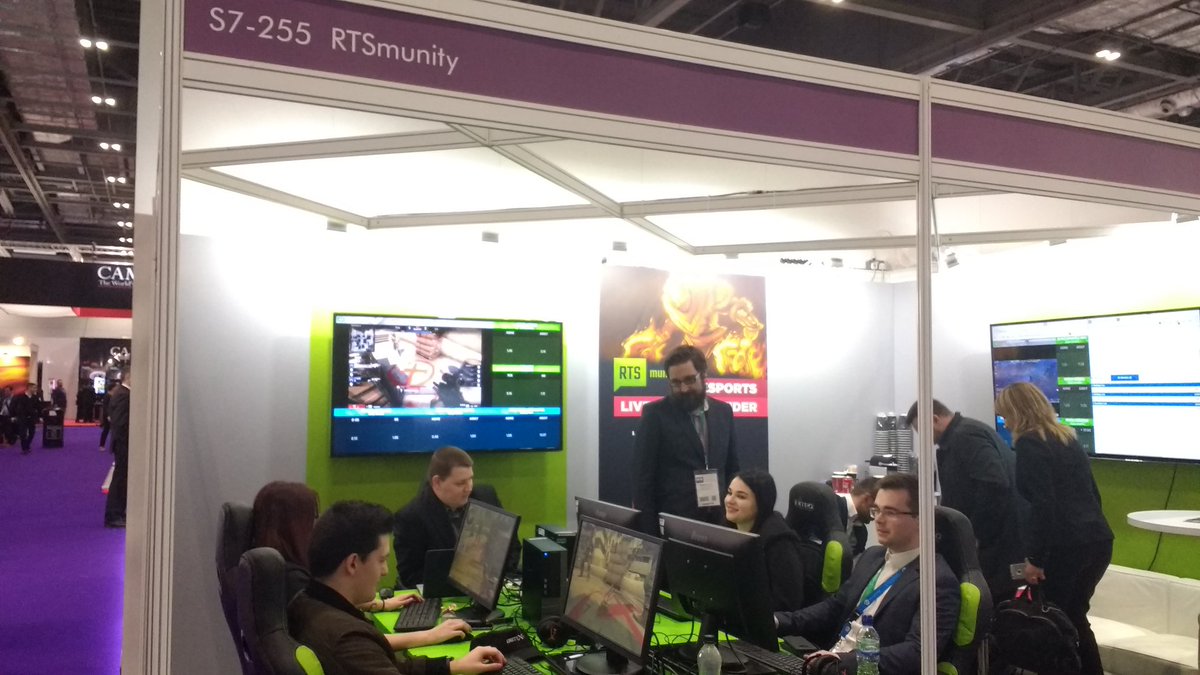 Reflective on company size, RTSmunity was the smallest stand we went to visit. They had two professional female CS:GO players operating two computers throughout the week, with two PCs spare for anyone that fancied having a go. Having stood behind the professionals for five minutes – we decided to give it a miss so not to ruin our CS:GO credibility.
The screen wasn't as clear as to what they were trying to achieve; yet it was built to show the live betting odds change and adapt depending on what was happening in the game. As there were three bots on each team and a huge variety in skill level across players, it was hard to gauge exactly what was happening. 
On the second screen they were showing their in-play product in action on Dota 2 through William Hill, who are one of the operators they mention utilising their expertise. It wasn't live but it was the only provider that we saw showing anything other than CS:GO. CS:GO is arguably the most simple to model, although the granularity in in-play CS:GO is already more developed than that in Dota 2 – hence why most providers chose to showcase their developments on the popular FPS title.
Vermantia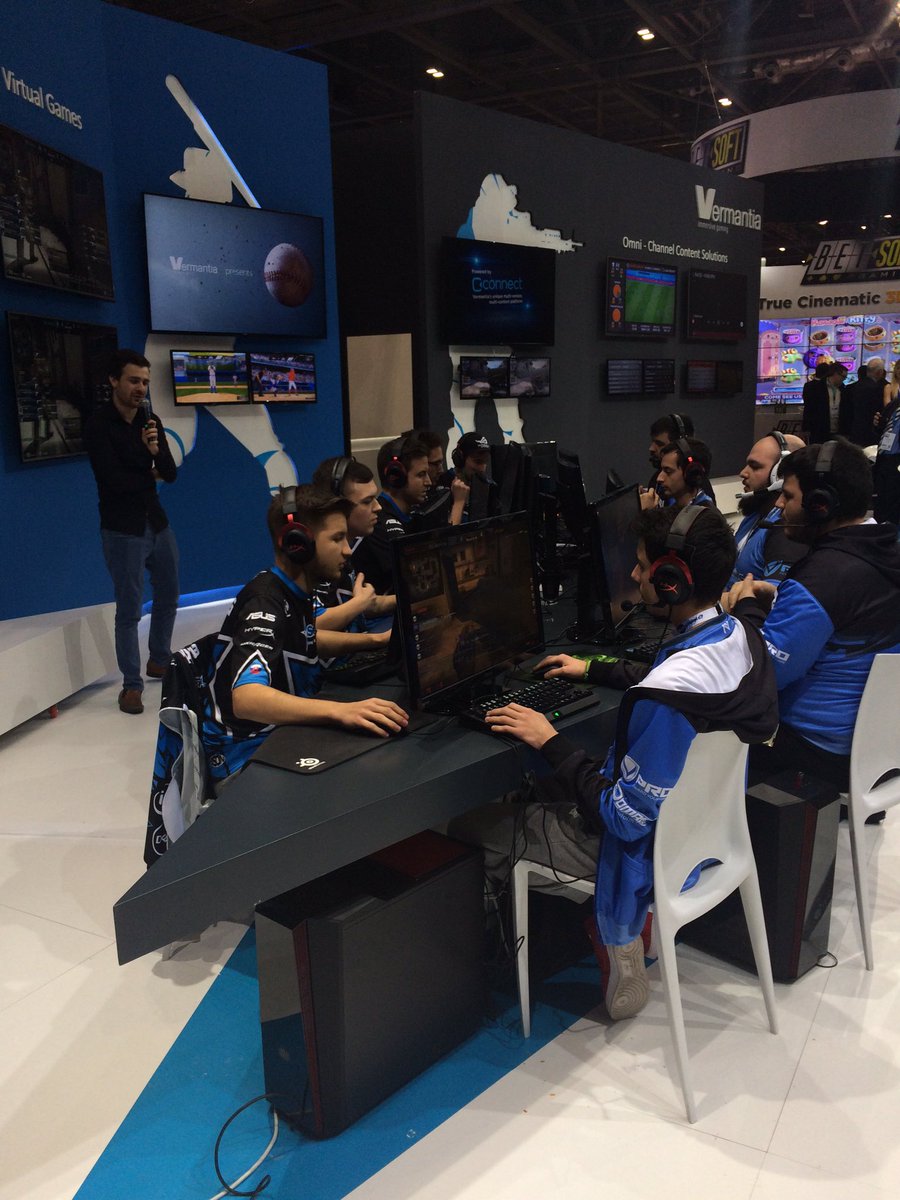 The relative new boys on the block (with respect to esports) brought teams eSuba and NL Gaming to ICE to play a show match on their stand.
The caster wasn't particularly easy to hear over the hustle and bustle of the exhibition floor, yet a decent crowd gathered to watch and try to understand the mysterious world of esports. 
Whilst it seemed generally well received, the emphasis on odds wasn't as evident here and the team facing the plethora of screens had a clear advantage over the others. It wasn't uncommon to see them glance up and see exactly what their opponents were buying and the economy of the opposition team; something that you would never see in the realms of competitive CS. Regardless, it will be interesting to see what Vermantia do in the space in coming months. 
Overall musings
The difficulties associated with in-play esports betting remain evident and clear for most to see. Whilst the problem of data being drawn through Twitch streams which often are delayed by two to even six minutes has been pinpointed as one of the major issues for those wishing to provide a feasible in-play product.
The issue remains that spectators will in fact still be watching streams with a delay. There's a reason in many games that you have a delay on the stream and that's to avoid cheating. Should there be no delay, someone can easily watch the stream live and pass information onto the team that is currently competing. Considering that the majority of esports is still played online and not at huge offline events, it remains a stumbling block. 
It's all well and good being able to offer odds with no data delay, but should the consumer be experiencing a delay they may not be able to take advantage of the offering. The general feeling is there's still a long way to go with in-play betting and the various mountainous endemic challenges associated with it. 
Don't be mistaken; thanks to the work of the aforementioned companies, esports live betting has already come on leaps and bounds. It'll be interesting to see these products pushed out through operators and the levels of success that they have. It'll also be fascinating to see how the Dota 2, League of Legends and Overwatch live betting develops.