Bookmaker Pinnacle has launched its revamped esports portal, including an up-to-date schedule as well as several blog posts providing information for those interested in betting on esports.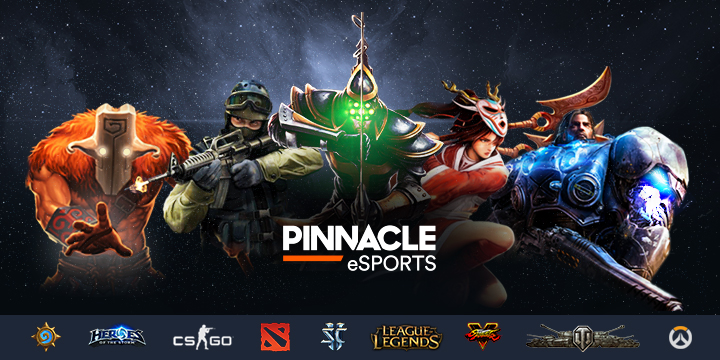 Pinnacle is arguably one of the best-known bookmakers in the esports space. The operator, which also offers traditional sports, was one of the very first to offer odds on esports. The company passed the 5 million wager mark back in February this year and, as outlined by Marco Blume later, expects it to reach at least 10 million by 2018.
The new-look hub ousts the previously outdated resources and schedule and adds a new, fresh look to the site offering a plethora of information to prospective punters. As well as having an up-to-date schedule of events, there's a "Blog" area with content in keeping with Pinnacle's traditional educational resources. 
The blogs range from more technical betting pieces such as "What is implied probability?" to introductory educational pieces around esports as a whole. It's evident that the portal has been a work in the pipeline for quite some time, with the "How to bet on Dota 2?" piece referencing OG as the world's best team following victory at the Kiev Major, a tournament that finished little over six months ago. Still, the piece explains the premise of Dota betting fairly well and it's considerably more up-to-date than what the website previously showed.
Pinnacle was the winner last year of the SBC Awards "Esports Bookmaker of the Year". The operator is again listed in the category yet faces tough competition from the likes of: GG.Bet, Unikrn, Danske Spil, ESP.bet and GG.Bet who have all made substantial developments this year as esports has continued to grow. 
"Pinnacle passed the 5 million eSport bet milestone earlier this year, and I was projecting to reach 10 million by January 2018. With the relaunch of our eSports Hub I may have to revise that prediction." said Marco Blume, Trading Director, Pinnacle, in a release. 
"Pinnacle has been at the forefront of esports betting since 2010 and we are totally committed to maintaining our position as the global leader in the future. Our new eSports Hub is designed to support this ambition. We have combined our exceptional odds in a user friendly format and published a huge portal of educational content so new and established eSports bettors can develop and improve alongside us." commented Harry Lang, Marketing Director, Pinnacle. 
Esports Insider says: Great to see Pinnacle reopening the esports hub with some more up-to-date content. They've been in esports a long while and they most definitely know what they're doing. There's few people out there with as much knowledge in the space as Marco. 
SBC Awards is organised by SBC Global, the parent company of Esports Insider.
Anyone wishing to book individual tickets or tables for the #sbcawards2017, please email[email protected] or [email protected] for more information.
To enquire about sponsorship opportunities at the event, please also contact us on [email protected] or [email protected].