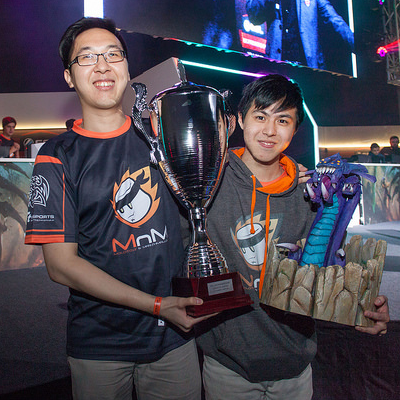 The final interview from MCM is with Kalvin Chung, one of the directors of MnM Gaming. Over the weekend he watched as his organisation secured two of the three titles on offer at the ESL UK Premiership. This saw them going home with the CS:GO and League of Legends trophies and narrowly missing out on the Overwatch title.
Esports Insider: You have three teams in grand finals, how has this felt for you and the organisation?
Kalvin Chung: Well, we just lost to Reason Gaming in Overwatch, but I'm still really happy about us having three teams in the final. I am pretty sure that is a new record for ESL UK. We won Friday and Saturday in the CS and LoL, but also got to the final in Overwatch – which, ignoring the scoreline of 3:1, was still a close game. We set a new record for the tournament and I didn't think we'd get to this situation so I am obviously very happy.
Esports Insider: How difficult is it getting three teams here? 
Kalvin: It was awful. For those who saw on Twitter we even misspelled one of the names on jerseys for our friends. We had to get over 50 pieces of apparel for our teams and people we knew who wanted to support us. Logistically that was difficult, having to source it all and getting it on time was a challenge.
I found it difficult having to juggle University as well. This week I might have missed a few lectures because I was focusing on this event! To me I treat any opportunity like this as a one time thing, never taking it for granted, so I put a lot of focus on the events.
Esports Insider: You've been an organisation for around two years now – tell us a bit more? 
Kalvin: Yes we have. During the first year I was in China, so technically we've been around for less than two years if you don't count when we didn't have any sort of social media presence.
Esports Insider: So you set up as a simple grass-roots organisation then?
Kalvin: Yeah we started as a group of friends, and went from there. I was quite old in esports terms at the time, and I thought if people motivated me, I could've been a fairly good player. For a lot of players out there, especially in the UK, there's a lack of organisations to support them mentally or push them to the next level.
Other countries have that foundation to cultivate players. That's why I started MnM, because if I can make a difference in even one player's life, then that's great and worth all the effort.
Esports Insider: So with your LoL team winning on Saturday you've secured a chance to qualify for the LoL CS, what's your plans going forward? 
Kalvin: I think we're still celebrating the victory for the team at the moment. We haven't planned anything so to say, but I know that there will be a lot of talks going forward. As a UK organisation and team, I know we want to push the UK into the European scene. I know a lot of people wanted to sell the spot if they got it, but for us we just want to push forward and really progress UK Players into the EU scene and show Europe that UK players and organisations have got something to show.