League of Legends Worlds is, without a doubt, the crown-jewel of competitive gaming. Where Faker rose as esports' answer to Michael Jordan; where Invictus Gaming betokened the shift from South Korean to Chinese dominance; a tournament watched by more than 100 million people last year. The pinnacle of esports already compares to some of the world's biggest sporting events.

So it's no surprise that global audio-streaming platform Spotify partnered with Riot Games in August to become the official audio partner for League of Legends' global events.
Esports Insider's magazine arm, The Esports Journal, spoke with Spotify's Global Head of Marketing Strategy, Neal Gorevic, about the firm's decision to invest in esports.
Credit: Spotify
"I've become a fan myself," said Gorevic on Riot Games' showpiece title. Indeed, Worlds can be awe-inspiring: "I had the opportunity to attend a live Worlds game last year, and was so impressed with the level of production that goes into the entire tournament."
Since the partnership was announced, the audio-streaming titan has unveiled LoL-related activations in the Spotify app. Untold Stories, an exclusive nine-part podcast series, explores important moments in Worlds history. Music playlists such as "This is League of Legends" and "Road to Worlds 2020" are also exclusively curated. "Keep an ear out for more coming soon, too," Gorevic added on the platform's music playlists.
RELATED: Red Bull launches 'simplified stream' for League of Legends World Finals
League of Legends as a competitive game is, by almost every metric, top of the class. Spotify's partnership with Riot includes sponsorship of Worlds 2020, as well as 2021's Mid-Season Invitational (MSI) and All-Star Event. Investing in LoL's major events is a bigger deal than investing in most esports titles; LoL's reach is global, and international expansion is a priority for Spotify.
"As we work towards our goal of becoming the number-one audio-streaming service in the world, we see the gaming entertainment industry as a critical area for engagement," said Gorevic.
Spotify's esports entrance is part of its "ubiquity strategy": ensure Spotify is everywhere, and can be used however consumers decide to use it—whether it's during a commute, on a game console, or through at-home speakers. Indeed, despite having a user base of almost 300 million listeners, and now more than 1.9 million unique podcasts on its platform, Spotify has never turned an annual profit. Right now the strategy is to grip the audio-streaming market tightly, and worry about profit later. League of Legends esports is, for Spotify, another gateway to the ears of gamers—and gaming is a goldmine.
"We have an active 'Spotify Gaming Community' internally that meets regularly and facilitates events"
"Gaming and music have a very natural synergy," Gorevic told The Esports Journal. But why esports? Why not create a partnership without LoL's competitive events? League of Legends is popular enough on its own; it is the world's most popular PC game.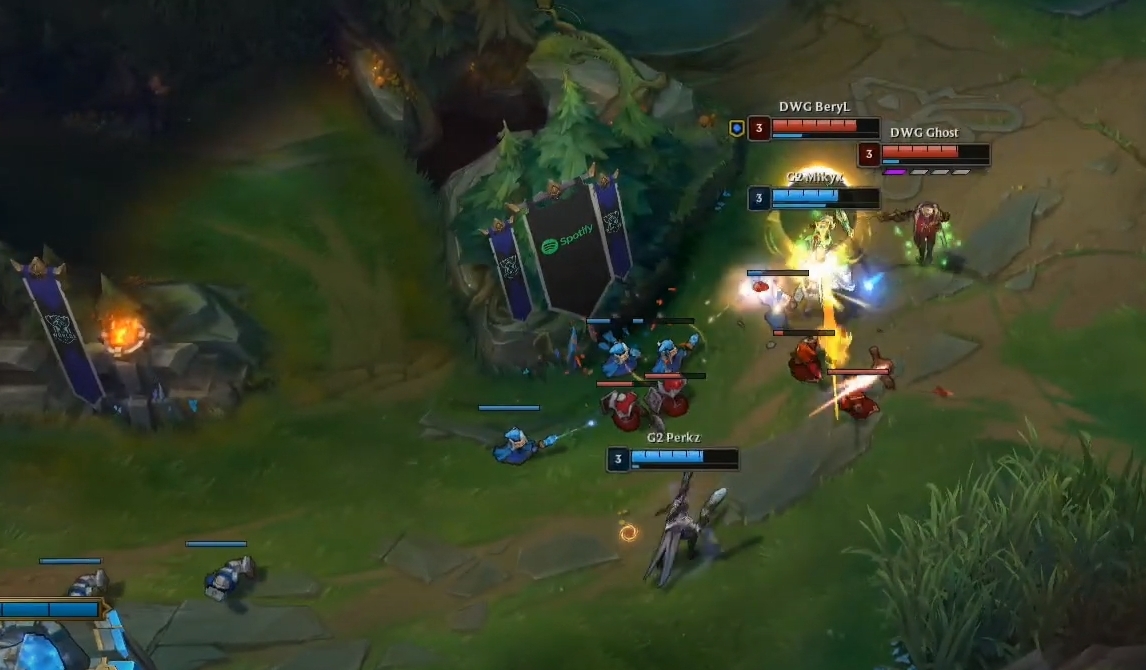 Screenshot from YouTube: G2 Esports vs DAMWON Gaming, semi-finals at Worlds 2020. A banner bearing the Spotify logo can be seen in a key area of the map.
First of all, Spotify does undertake gaming partnerships separate from esports. "Over the years, we've launched integrations with partners such as PlayStation, Xbox, and Discord, all of which have been successful at a global level," Gorevic commented. Secondly—and crucially—a large proportion of League fans play the game and follow the pro scene.
As of 2019, 68% of LoL players watched competitive play, according to Statista. Even in comparison to Counter Strike: Global Offensive, this is substantial; only 51% of CS:GO players watch the game's competitive matches. This is noteworthy because CS:GO was the second-most popular esport in the world in 2019 according to Esports Charts—behind only League of Legends. Moreover, 26% of LoL fans only watch competitive matches without playing the game themselves. League is colossal, and its esports scene is far-reaching.
RELATED: Mastercard collaborates with Riot Games and CLOAK to 'Thank the Fans'
Unsurprisingly then, Spotify was tracking Riot Games for a while. "In our research, Riot Games was top of the list of brands to collaborate with. They have the widest global reach of any esport, with broadcasts in more than a dozen languages, and consistent, record-setting viewership," said Gorevic. "Many of our employees at Spotify are gamers themselves—we have an active Spotify Gaming Community internally that meets regularly and facilitates events. It felt like a very natural progression to explore a new global partnership within the esports space."
Sponsoring LoL esports also allows Spotify to specialise with its activations. Of course, straight brand advertisement for Spotify is front and centre at Worlds (including in-game logo banners scattered across Summoner's Rift). But more than that, by sponsoring LoL esports, Spotify has an excuse—incidentally or otherwise—to specialise its in-app activations to events like Worlds; think Untold Stories, the exclusive podcast series.

Screenshot: Spotify's new League of Legends Hub, in all its glory.
This year it became clear that podcasting is prioritised by the company. In May, Joe Rogan shocked the world by announcing that his show, The Joe Rogan Experience, would be posted exclusively to Spotify, with the deal worth over $100 million. Spotify wants to engage all types of gamers by covering all types of audio consumption. "Thanks to our extended partnership [with Riot Games], we look forward to evolving this podcast over the years to come," Gorevic said in reference to Untold Stories.
With its huge market share, Spotify can and does invest heavily in personalising the user experience, sacrificing short-term profits in exchange for providing a sweeping, personalised experience. "Innovation is at the core of what we do," said Gorevic. "Spotify is always pushing to ensure a seamless connection with the best-in-class gaming partners, making [the discovery of] new music and podcasts easier than ever."

Screenshot: Spotify's new LoL-related "digital experience", which in partnership with Riot asks users a series of questions and provides corresponding character profiles from the LoL scene. I'm apparently a Do-Gooder, along with Sjokz, Beryl and Santorin, which led me to a Do-Gooder music playlist in Spotify.
As evidenced by its internal 'Gaming Community' among employees, gaming lies at the heart of Spotify's culture. "We have some avid gamers at Spotify who are big League of Legends fans and play regularly," Gorevic added. "Since we announced our partnership, the excitement has only continued to grow."
While there is clear economic incentive to sponsor League of Legends esports, one can't help feeling that Gorevic's taste of Worlds last year, at the very least, made the decision easier. "The energy you feel is unparalleled," he concluded.
---
Read the full version of this article in Edition 7 of The Esports Journal.